Over the past week or so, I've had lots of time to think. Last weekend I spent a total of about 6 hours driving down the highway to see my family. My driving time is most often spent singing along (very loudly and very badly) to the likes of folk like Train, John Mayer, Glee, Pink and Katy Perry, whom I admit are all far more talented in their field than I will ever be. This activity makes my driving time pass quickly, but achieves little more than a sore throat and raspy voice. Oh, and I suppose it might also be entertaining for drivers who pass me and observe the crazy lady with oversize sunglasses rocking out hard in her car.
But not this time. Feeling unusually reflective, I thought about the year that is very nearly finished and came up with a list of my top 5 biggest accomplishments this year. They were as follows:
1. I graduated from university. Although my classes finished in August, the convocation celebration for myself and the other Business grads took place in October. The weekend was full of celebrations (as you may recall from this post), and I loved it because I got to see a ton of family members and friends.
It's true what they say about university years being some of the best of your life. I have no regrets about the university and program I chose, the activities I participated in, or anything else that happened over those 4 years. Yes, that includes the not-so-wise decisions…. you've got to learn somehow, right?
Some days I wish I could go back and do it all over again – minus the whole exams part. I never enjoyed those very much.
2. I got a full time job at a great company. My first day of work was all the way back in September, but the people I get to see at the office every day are so unbelievably friendly and supportive that I feel as though I've been working with them for much longer. I won't lie – initially the learning curve was steep and I wasn't sure if I'd made the right choice. But lots has happened since September 20th, and now I'm sure.
3. I started Eat Spin Run Repeat (and have kept it going!) I have to admit, when I started blogging, I definitely didn't anticipate keeping at it for as long as I have. I figured I'd eventually run out of things to write about, or lose interest, or run out of time. After all, being a full-time student, then a full-time employee, how on earth was I ever going to squeeze in posting every morning with classes and work to get to? Well, somehow it seems I've found a way.
Blogging has taught me a lot. For example, it has taught me to be far more discerning and pay more attention to food photography. Case in point:
Blogging has also led to me trying many new things – some enjoyed and some detested. I've learned that most of my meals will need reheating after they have been sufficiently photographed. I've learned what a Google Reader is, that blogging can be a full-time job, and that bloggers are some of the nicest people you'll ever meet.
Part of my blogging motivation comes from people like YOU, my absolutely amazing readers. You have no idea how thankful I am that you take the time to read my ramblings every day. It's you that keeps me going!

4. I became certified as a Fitness Instructor Specialist... and am almost certified as a Nutrition and Wellness Specialist. I pursued both of these designations to further develop my part-time role as a group exercise instructor and out of personal interest. As for the NWS cert, I've passed my written exam and will be doing the practical portion sometime in the next 2 months. These were 2 goals I set for myself for the second half of 2010, and I'm pleased to say I've (nearly) accomplished them both!
5. I met a ton of new people who I couldn't be more proud to call my friends. I don't just mean university friends, although I love all of them dearly (and miss the ones that moved away!!) I'm also talking about the amazing people I've met through work, at the gym, through the courses I've done this year, through friends of friends, and through blogging. Yes, that includes blends (blog friends) that I've never met face-to-face, like many of you!! One thing I learned while living abroad was how important it is to keep in touch and invest in relationships with people I've met, and I'm excited to make this one of my focuses for 2011.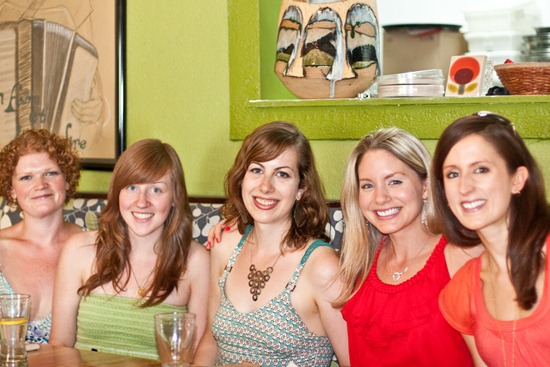 So tell me, on this final day of 2010…
What accomplishments are you most proud of this year? Boasting and bragging is most welcomed! Tell me about how amazing you are!!!

I'm off on another car journey this weekend, but before I go I want to wish you a very Happy New Year, and all the best for 2011. I'll see you back here on Monday for a chat about new goals. Would you expect anything less at this time of year?
Have a fantastic day!